BONDBONE - Bonding Graft Material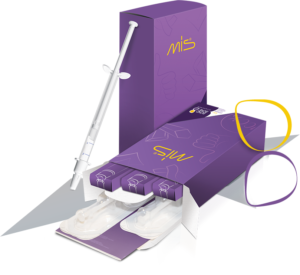 BONDBONE is an innovative synthetic bone grafting material composed of biphasic calcium sulfate. Due to its novel engineering process, BONDBONE has excellent handling properties. The initial pliable paste is fast setting and is not affected by the presence of blood and saliva.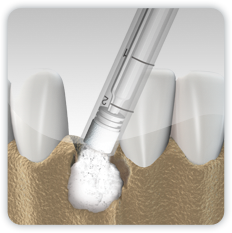 Excellent Binder or a Stand-alone Graft
BONDBONE is a resorbable, osteoconductive bone grafting material taking the best qualities of hemihydrate and dehydrate calcium sulfate and combining them into one unique product. When combined with other augmentation products, BONDBONE acts as a binder to improve graft stability and to increase volume and effectiveness of the bone graft.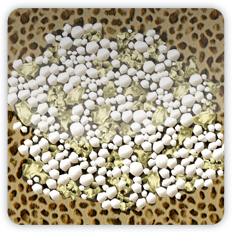 BONDBONE can be used as a highly effective material for socket preservation procedures and the augmentation of small defects.
FEATURES
Excellent binder: BONDBONE is an excellent binder for other granular augmentation materials. It facilitates easy handling and prevents particle migration, supporting predictable outcomes.
Versatile: BONDBONE may be used either as a bonding material within a composite graft or by itself. It boosts other grafting materials for the augmentation of large defects and can be used alone for small defects and for socket preservation procedures. BONDBONE can also be used as a barrier over other augmentation materials.
Easy handling: The initial pliable BONDBONE paste sets within two to five minutes, allowing both significant reduction of procedure time and excellent handling.
Perfect stability: Setting is not affected by the presence of blood or saliva.
Pure and safe: BONDBONE does not contain any components other than calcium sulfate.
Osteoconductive: The unique porous structure of BONDBONE allows infiltration of growth factors through its micropores, as well as angiogenesis and cell proliferation through its macropores.
Completely resorbs: BONDBONE completely resorbs, leaving behind newly regenerated natural bone.