SOPROCARE
The SOPROCARE concept was developed to assist the dental professional during prophylaxis and periodontal treatment in the dental office.
SOPROCARE reveals caries in CARIO mode, as well as new and old dental plaque in PERIO mode
In addition, SOPROCARE is the first product on the market to reveal gingival inflammation.
In DAYLIGHT mode, SOPROCARE can also be used as a camera, providing all of the necessary tools to perform a complete and time efficient oral examination.
PERIO MODE
Due to the wavelength emitted by the LED lights of SOPROCARE®, the new plaque is highlighted by its white and grainy characteristicand old plaque is revealed a shade of yellow and orange.
CARIO MODE
Enamo-dentinal caries are clearly revealed by the bright red colour in the CARIO mode. Other surrounding tissue is displayed in black and white, thus focusing on the carious lesions.
DAYLIGHT MODE
A preset focus ring replaces the inconvenience of autofocus and provides sharp images without delay, regardless of the object or the distance.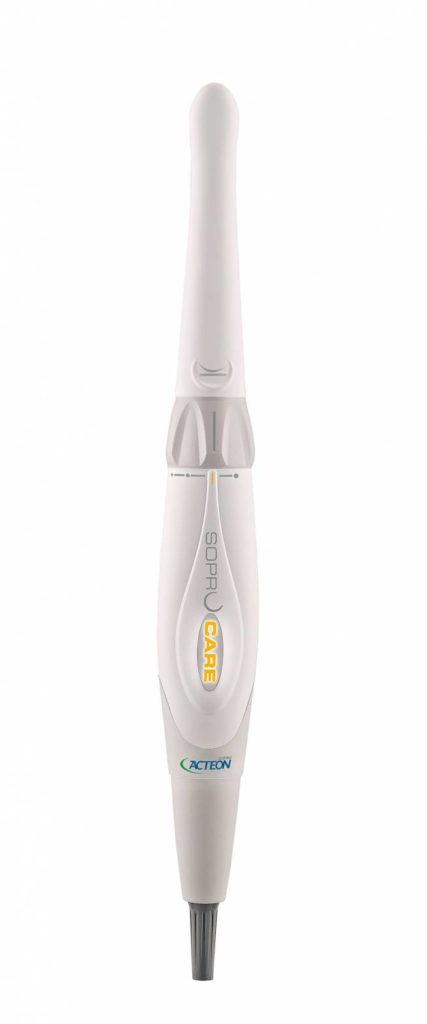 SOPROLIFE
SOPROLIFE is an excellent tool to identify and excavate decay. Daylight, diagnostic and treatment modes aid in effective, minimally invasive treatment while preserving healthy tissue.
DAYLIGHT MODE
In white light, from Portrait to Macro, SOPROLIFE produces unequalled quality of image. This mode not only enables you to communicate more effectively with your patients, but also gives you the ability to see details which are invisible to the naked eye.
DIAGNOSTIC MODE
SOPROLIFE is more accurate in identifying the development of occlusal and/or proximal carious lesions. This mode can help speed up the decision making process in treatment planning and enables safer options for the patients without ionizing radiation.
TREATMENT MODE
Clinical performance is enhanced as SOPROLIFE enables you to visually differentiate between infected and healthy tissue in the excavated site.
INTRAORAL CAMERAS
SOPRO 617 and SOPRO 717 First integrate sophisticated optical systems for a better image quality.
SOPRO 717 FIRST
In dentistry, many daily procedures require loupes or a microscope together with a mirror to observe the areas requiring treatment. SOPRO 717 First allows you to go beyond the limits of human vision without any additional equipment.
SHIFT TO HIGH-TECH MODE
The sleek innovative design incorporates an extremely thin distal part for better access along with a highly ophisticated optical system providing exceptional image quality.
A SUCCESS FROM ANY POINT OF VIEW
SOPRO 717 First's great depth of field means you obtain a sharp image in seconds no matter which mode is chosen. Perfect illumination is achieved with eight LEDs.
DISCOVER MACROVISION
Macrovision is the major advantage offered by the SOPRO 717 First: it extends way beyond the limitations of the human eye, giving a magnified view of up to 115 times. One simple procedure, and the infinitely small appears before your eyes!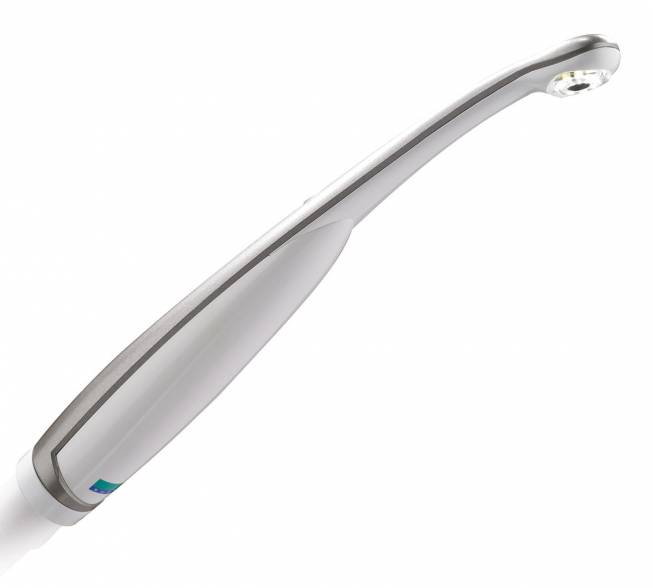 SOPRO 617
The SOPRO 617 camera is now a worldwide standard for dentists who demand SOPRO image quality. Its Color Line has been designed to efficiently light up your working environment.
OPTIMISED ERGONOMICS
The SOPRO 617 intraoral camera offers a 105° view for improved exploration of the distal areas. Its rounded shape and the thinness of the distal part make it more comfortable in the mouth.
AUTOMATIC FOCUSING AND MAXIMUM DEPTH OF FIELD
SOPRO 617 is equipped with an aspheric lens which avoids distortion and provides a high quality image. No adjustment is necessary to obtain a perfectly clear picture.
SOPRO TOUCH, THE "ORIGINAL"
Fix the image on the screen simply by touching the touch-sensitive SOPROTOUCH.