THE STYPRO® SPONGES MADE OF PORCINE GELATINE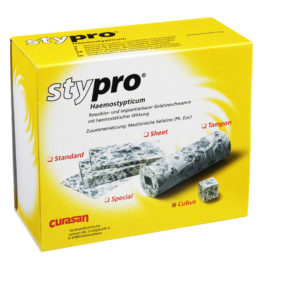 Stypro® is a sterile, highly porous sponge that is implantable and resorbable. This biomaterial, which was originally developed for hemostasis and is used for that purpose in a wide range of surgical fields, is further characterized by outstanding workability. More recent applications have demonstrated advantages also in tissue engineering and thus in wound healing of soft-tissue defects.
The stypro® sponges made of porcine gelatine have the capability to initialize hemostasis (clotting).
Interconnecting porosity with no thrombin or other additives

Use with physiological saline solution with no impairment of hemostatic properties

Complete resorption within approximately 3 weeks

No evidence of PERV (porcine endogenous retrovirus)– DNA sequences
Indications