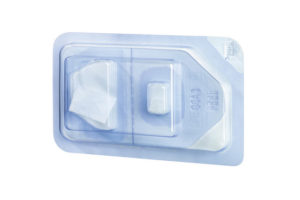 Geistlich Combi-Kit Collagen contains Geistlich Bio-Oss® Collagen 100 mg and Geistlich Bio-Gide® 16 x 22 mm. Used together, the two combine optimal properties for ridge preservation and minor bone augmentation.
Leading clinicians rely on Geistlich Combi-Kit Collagen because:
Geistlich biomaterials are supported by scientific evidence and years of successful clinical experience.
Extraction socket management with the Geistlich Combi-Kit Collagen is a reliable option to preserve the ridge profile.
GBR with Geistlich biomaterials provides long-term volume stability1 and space maintenance.
User benefits
Proven effectiveness in regenerative periodontal therapy.
Sustained higher attachment level gain compared with open flap debridement alone.
Easier handling and forming of Geistlich Bio-Oss® Collagen and Geistlich Bio-Gide® Perio simplify periodontal treatment.
Long-term volume stability, bone integration and space maintenance.