Concentrated Growth Factors and CD34+
THE ADVANCED BREAKTHROUGH IN REGENERATIVE MEDICINE
Growth factors (GF) are proteins which regulate the complex processes of wound healing and enhance the body's healing abilities without side-effects.
Hematopoietic stem cells (CD34+) are the stem cells that give rise to all the other blood cells through the process of hematopoiesis.
Immunohitochemical analysis prove the presence of antigen CD34+ positive cells in CGF. The CGF therapy is an advanced, powerful anti-ageing treatment for the ultimate natural approach to facial rejuvenation; it is toxin and animal product free and simply uses the patient's own blood.
CGF is a reliable alternative to the existing techniques which exploit the blood transformation without adding any synthetic or catalysing component. The stimulating and healing power of the concentrated GFs contained and obtained through the CGF will help recovering all those tissues which undergo regeneration.
There are many scientific researches of  Concentrated Growth Factors, CD34+ written and published in a lot of medical specializations such as:
Biology, Biochemistry, Orthopedics, Maxillofacial, Dentistry, General Surgery, Gynecology, Sports Medicine, Aesthetic Cosmetic treatments, Hair regeneration, Analgesic therapy and more.
Concentrated Growth Factors and stem cells CD34+ gives you:
faster and better healing results
faster bone growth
better implant osteointegration
no dry socket
obtain "StickyBone" after fixing with bone substitute
obtain "el Poncho" – autogenic membrane used during implantation implantacji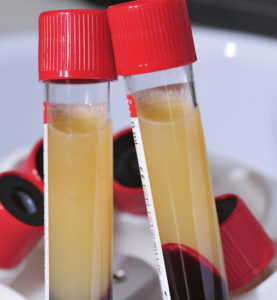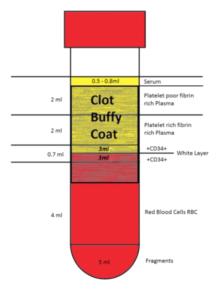 The CGF is characterised by 4 phases:
a superior phase represented by the serum (blood plasma without fibrinogen and coagulation factors),
an interim phase represented by a verylarge and dense polymerised fibrin block
a liquid phase containing the GFs, white line cells and stem cells waiting for stimulation and to differentiate into specialized cell types,
the lower red portion is a viscous, dense, platelet-rich coagulation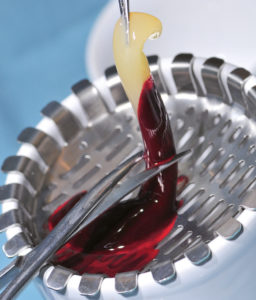 The immunohistochemical analysis of cells CD34+ expressed in the Red-Buffy Coat Interface showed a number of cells CD34+ four time greater in the samples trated with Medifuge-Silfradent centrifuge compared with control centrifuge.
CGF                             PRF
A period of: 20 min.
A period of: 30 min.
A period of: 40 min.
CGF has better concentration of fibrin  (the period of 24h):

SYSTEM CGF - MEDIFUGE, Set CGF K1 (Patented) and ROUND UP
Silfradent glass tube is the only one that corresponds to the European standard regulations For Class IIA medical devices.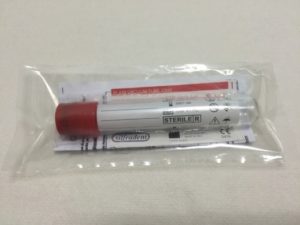 Class IIA Product
Due to "Provisions relating to quality and safety requirements for blood and blood components" we provide  glass tubes in Class IIa.
The rule provides:
If the material is sterile packed it must be accompanied by operating instructions – included in the box or in the tube (better in the test tube) present in Silfradent tubes.
Identifying labels, removable to be applied in Medical Therapeutic Protocol
The Silfradent Medifuge MF200 is a dedicated medical plasma centrifuge. It is designed to prepare autologous concentrated growth factor (CGF) and CD 34+ cells using patient's own blood wich is the ideal autologous source without the addition of exogenous substances. CGF represents a new generation of platelet that able to hold inside a higher concentration of autologous.
Growth factors are proteins which regulate the complex processes of wound healing and enhance the body's healing abilities without side-effects.
MedifugeMF200
The Medifuge prepares up to 8 test tubes of various levels of concentrate with active proteins in liquified or Fibrin form to create membranes, glue or other particulars for tissue regeneration and bone augmentation in a short period of 14 minutes.
Product features:
This unique medical device allows for the use of up to 8 test tubes for the creation of CGF (fibrin).
A micropocessor control system allows for the maintaining of a constant speed.
The exception rotor system with self-ventilation protects the blood sample from heat exposure. The rotor-holding compartment, the closing door and the test tube-holding jackets guarantee biological safety in terms of bio-containment, in the event of test tube breakage.
The test tube-holding jackets and rotor are built from thermal, antistatic material that is easy to clean, extract and sterilise in an autoclave at 135°.
MEDIFUGE is equipped with a decontamination cyclewith UVC reflected light.
Cycl duration 5 minutes at 1,000 revs.
The electronic control engine and its internal parts require no maintenance.
 Noise levels fall below the standards required and do not exceed 57 dBa.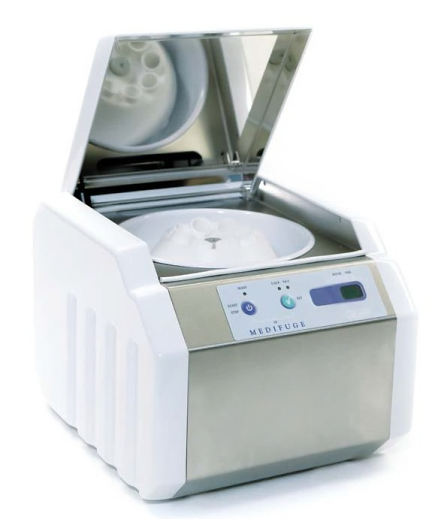 Sifradent's advance:
Controlled acceleration
Cycle Bleaching sterilizing= decontamination
Antistatic, anti-magnetic rotor
Self-ventilation to control temperature
Deceleration control
Cooling
Temperature control
Self-decontamination
Rotor with alternate and controlled speed with an acceleration always under RCF300
Technical info:
Capacity: 8 units (test tubes)
Processing Time12 minutes
Power Source: 230V +/- 10%      50/60 Hz
Noise Level: Don't exceed 57 dB(A)
Dimensions of Unit: 230w x 320L x 240H mm
Weight: 9.4 Kg
Country of Manufacture: Italy
Kraj produkcji: Włochy
KIT CGF K1
MEDIFUGE & CGF KITPatent pending – Blood Phase Separator 
CGF KITThe patent kit is equipped with the neccessary for blood collection, specific dappens to prevent any contamination risks and the required instrument to produce the fibrin membrane and insertion of the clot in the site.
| | |
| --- | --- |
| 01 – Antiseptic Swab | 50 pcs. |
| 02 – Throwaway Tourniquet | 25 pcs. |
| 03 – Complete butterfly | 24 pcs. |
| 04 – Haemostatic band-aids | 30 pcs. |
| 05 – Glass tubes – medical device  class IIa | 100 pcs. |
| 06 – Stainless Steel Test Tubes Tray | |
| 07 – Dappen for fibrin separator | |
| 08 – Grid for fibrin separator | |
| 09 – Dappen for fibrin | |
| 10 – Dappen for platelets | |
| 11 – Dappen for particulate | |
| 12 – Scissors with round tip | |
| 13 – Straight anatomic pliers | |
| 14 – Straight spatula | |
| 15 – Pliers for membrane creation | |
| 16 – Compactor device | |
| 17 – Injector for fibrin – incuding 2 pieces | |
| 18 – Spatula applicator for membrane | |
| 19 – Topper Gauze | 25 pcs. |
| 20 – Surgical instrument tray | |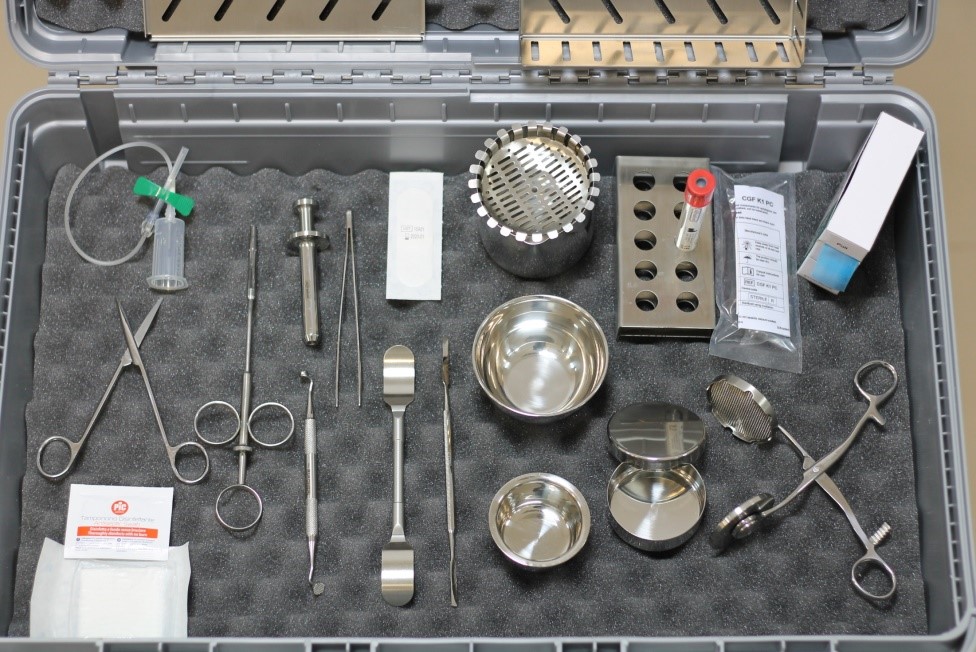 ROUND UP
Patent pending - Integrated Mixing
The Silfradent Round up is a medical devise that permits Intrinsic and Extrinsic molecular blender for plasma concentrates with autologous bone or bio-compatible additions.
The osteoblasts adhesive paste generated by the Round Up devise accelerates the bone regrowth and/or healing more than 60% compared to best hand mixture.
Product features:
Medical device for intrinsic and extrinsic molecular blend, mixing with altering the geometric dimensions of autologous, heterologous or synthetic materials, for medical use.
The system is used with liquid, semi-liquid or solid materials.
Perfect, homogenous mixing free from atmospheric contamination.
Automatic empty in just a few second: max 16 seconds.
Equipped with a decontamination cycle with UVC reflected light.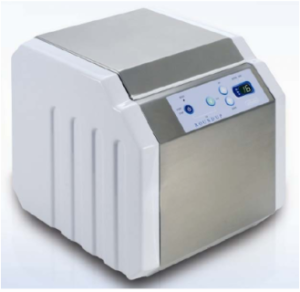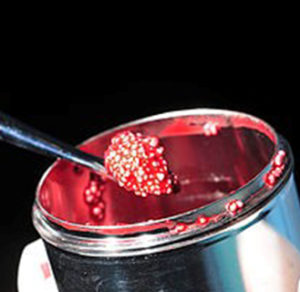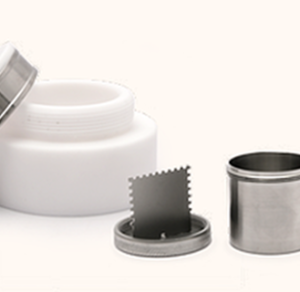 LPCGF
CGFSOLID