PIEZOTOME CUBE
With Piezotome® CUBE bone surgery can be performed much faster with maximum power output and patient safety.  The CUBE is especially effective with atraumatic extractions.  Socket preservation, decreased patient pain and post operative swelling are enhanced with CUBE facilitating immediate implant placement.
TISSUE PRESERVATION
Frequency modulation is controlled for soft tissue preservation and better tissue recovery.
Linear tip vibrations and tip thinness provide precise and smooth cut resulting in minimal bone loss
Controlled irrigation flow reaches the end of the tip regardless of the orientation to reduce risk of bone over heating
POWER, WHEN YOU NEED IT MOST
With Newtron® technology, automatic and continuous frequency adjustment guarantees the level of power required in any situation
Dynamic Power System Inside (DPSI) continuously monitors tip pressure to deliver immediate power responsiveness, only when it is needed.
According to the resistance encountered, the D.P.S.I. provides:
– Increase + 30% the power for improved cutting performance
– Decrease – 10% the power, to be safer on soft tissues
CUBE LED handpiece
LIGHTER, BRIGHTER AND MORE POWERFUL THAN EVER
SUPERIOR OUTCOMES
FOR SURGEONS:
Fast and less invasive protocols
FOR PATIENTS:
Less traumatic surgical treatment that will improve patient acceptance and help them to get back in their life.
VERSATILITY
Each tip is designed to be adapted to patient anatomy. The exclusive range of surgical tips permits surgeons to broaden their surgical portfolio and get inspired to expand their expertise:
Atraumatic extractions preserving the table bone
Accelerated orthodontic treatment (Piezocision)
Precise crown lengthening
Predictable healing bone grafting
Safe lateral sinus lift
Crestal sinus lift providing better patient's acceptance
Crest Splitting leaving the bone periosteum intact
Orthodontic Bone Stretching (O.B.S.) offering an alternative to ankylosed tooth extraction or malpositioned implant
MEET CLINICAL DEMANDS
Smaller footprint and touch sensitive screen for direct access to all device settings
Weighted multi-functional foot pedal provides absolute control of the device – No assistance is needed
Robust tips strengthened with surface treatments for long life
Autoclavable or single use irrigation lines available.
EVIDENCE BASED BENEFITS
Safety
Bone preservation
Comfort
Less post-operative pain
Optimal visibility
Superior healing
Surgery Extraction 3D protocol
Surgery Crest Splitting 3D protocol
Surgery Bone Surgery 3D protocol
Surgery Piezocision 3D protocol
Surgery Sinus Lift 3D protocol
Surgery Crown Extension 3D protocol
Surgery Intralift 3D protocol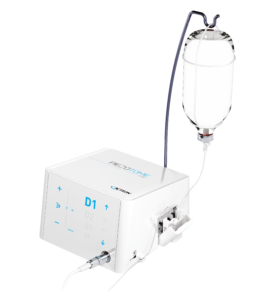 IMPLANT CENTER 2
The alliance of technologies for safe and atraumatic bone surgeries
The alliance of the most advanced ultrasonic and rotary technologies ensures total independence in increasingly diverse clinical areas like:
Periodontics, endodontics, prophylaxis, restorative, pre-implant, implant surgeries.
PRODUCT BENEFITS
Eficacy
Highly reliable I-SURGE LED motor with its high torque (6Ncm) and wide speed range (100-40000Rpm). Boosted, the Piezotome® LED handpiece contains 6 ceramic rings for faster and secure surgeries.
Access to all dental treatments with the NEWTRON® LED handpiece.
Versality
3 functioning modes:
I-SURGE™ for implant surgeries (rotating motor)
Piezotome® for pre-implant ultrasonic bone surgery
NEWTRON® for all dental ultrasonic treatments.
NEWTRON® TECHNOLOGY
Patented technology for more preservation, efficacy and comfort.
Preservation
Security: non active on soft tissue (selective cut). Bone preservation thanks to tips highly precise cut, linear vibrations, controlled and regular amplitude.
Eficacy
Automatic frequency adjustment for maximal performance of each tip.Real-time power regulation for constant performances and effortless cut.
Comfort
For both patient and practitioner with secure and effortless cut, better tactile sense and reduced post-operative pain.
Large and robus tips range 
Numerous robust tips strenghten by surface treatment to extend clinical applications:
Bone surgery
Lateral and crestal sinus lift
Crest splitting
Extraction
Piezocision™
Crown lengthening.
With the NEWTRON® LED handpiece, get access to over 80 different dental care tips, with exclusive designs, alloys and coatings.
Total Control
Large multi-functional progressive footswitch.
Autoclavable or single use irrigation lines available.
Regular irrigation flow thanks to the specific pump/cassette system.
Long-lasting accessories (wrench, tips, handpiece).
Evidence based benefits
Safety
Increase bone volume
Comfort
Less post-operative pain
Optimal visibility
Superior healing