X-MIND TRIUM - CBCT PAN/3D/CEPH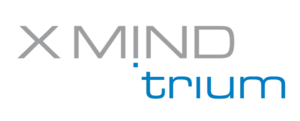 The X-MIND TRIUM product family is an innovative digital imaging system designed to extend the 2D base pan unit to the cephalometric arm (left or right) and to the CBCT/3D version, ultimately achieving 3 solutions in 1 device. This allows the clinician to upgrade their X-MIND TRIUM to the growing needs of their practice, if necessary.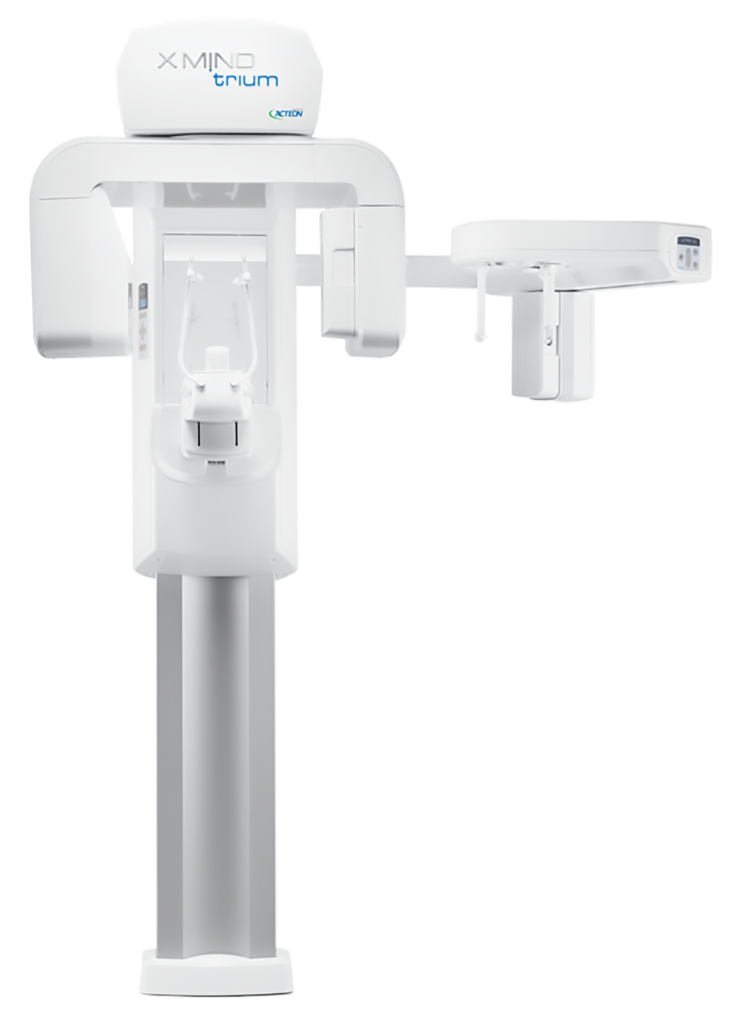 DENSITY ASSESSMENT, BONE VOLUME MEASUREMENTS
EXTENSIVE IMPLANT LIBRARY
SIMPLIFIED PLANNING OF IMPLANTS
EXPORT AND IMPORT STL FILES
A wide range capabilities of panoramic and cephalometric imaging in 1:1 scale and CBCT/3D imaging make X-MIND TRIUM the ideal diagnostic tool which always provides optimal image quality with a minimum radiation dose for the patient.
Panoramic, telemetry photos in 1: 1 scale and 3D images are always obtained in excellent quality thanks to the systems supporting the work of X-MIND TRIUM:
SHARP ™ is a new spatial filtering method. Reduces artifacts and noise for sharp, detailed images.
STAR ™ is a spatial artifact reduction technique especially useful for imaging patients with implants, orthodontic devices, or other metal materials.
ART is a radiation reduction technique that reduces patient dose from 20% to 30%.
X-MIND TRIUM CBCT/3D allows you to perform exams for all dental procedures, ensuring minimal radiation for the patient by offering a wide choice of imaging fields.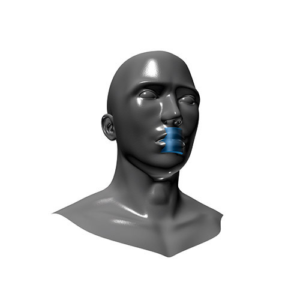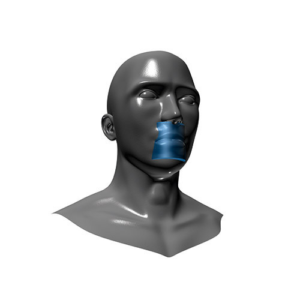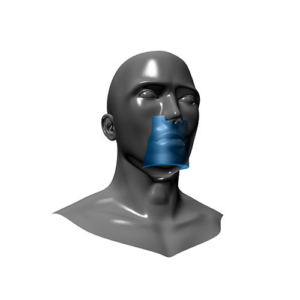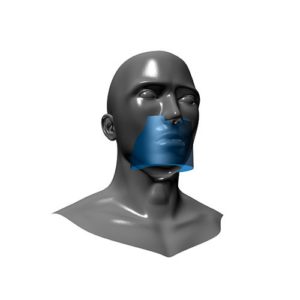 X-Mind® prime 3D is the latest addition to ACTEON's CBCT digital imaging product line. It blends cutting-edge technology with ease of use in a compact design. With X-Mind® prime 3D, high tech is at your fingertips with tools for accurate diagnosis and complete treatment planning.
X-Mind® prime 3D is a lightweight and compact system that can fit into virtually any dental office. With its intelligent, wall-mounted design, the unit takes up zero floor space. Because the unit is delivered preassembled to the office, it can be installed by a single technician in under an hour, so it is up and running and does not interfere with office production.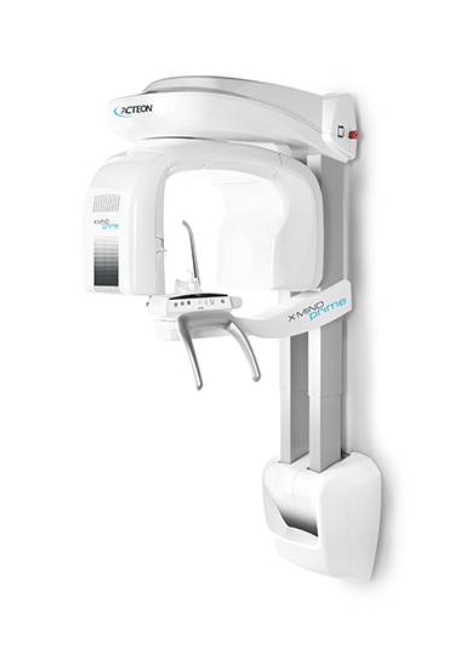 IS MORE ACCESSIBLE THAN EVER
WITH A SMART AND COMPACT SOLUTION
To maximize productivity, X-Mind® prime is specifically designed to reduce the patient preparation time. Natural face-to-face positioning supported by alignment lasers for correct patient positioning. Whether sitting or standing at any height, the telescopic columns can be directly adjusted using the control panel. X-Mind® prime's open space configuration suits all types of patients and is easily accessible for wheelchair users with its zero footprint space.X-Mind® prime combines 2D and 3D technologies. Using a single sensor, the practitioner can quickly and easily switch between modes. With 24 panoramic and 32 CBCT options, X-Mind® prime covers many clinical applications including implantology, endodontics, TMJ and sinus imaging: opening up a whole range of new possibilities.
Several FOV's for Many Applications (from 50×50 mm to 85×93 mm):
Full dentition
Single jaw (maxillary / mandibular)
Maxillary teeth (right molars/right premolars/incisor/left Molars/left premolars)
Mandibular teeth (right molars/right premolars/incisor/Left molars/left premolars)
TMJ (right/left)
Sinus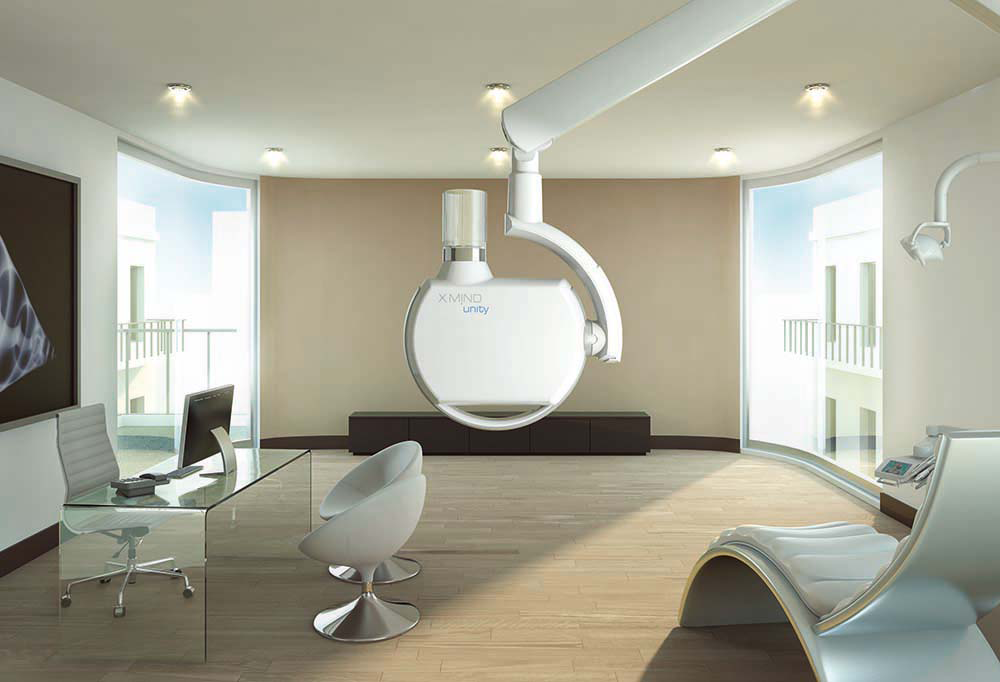 Classifi cation: Class 1 type B
Supply voltage: 100–240 V
Maximum power absorption: 850 VA
X-ray tube: TOSHIBA D-041
Frequency: 50/60 Hz
Focal spot: 0.4 mm
Total filtration: >1.5 mm Al @ 70 kV
Leakage radiation: < 0,25 mGy / h
Cooling duty cycle for 1 s: 32 s
Technology: High frequency DC
Maximum anode current: 7 mA
X-ray tube voltage: 60/65/70 kV
Maximum exposure time: 2 s
Compatibility: Film, phosphor plate, digital sensor
Weight: 23 kg
Configuration: Wall mounting top and bottom, mobile
Timer: Microprocessor controlled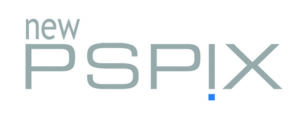 The smallest and the fastest image plate scanner on the market!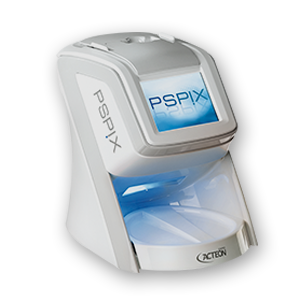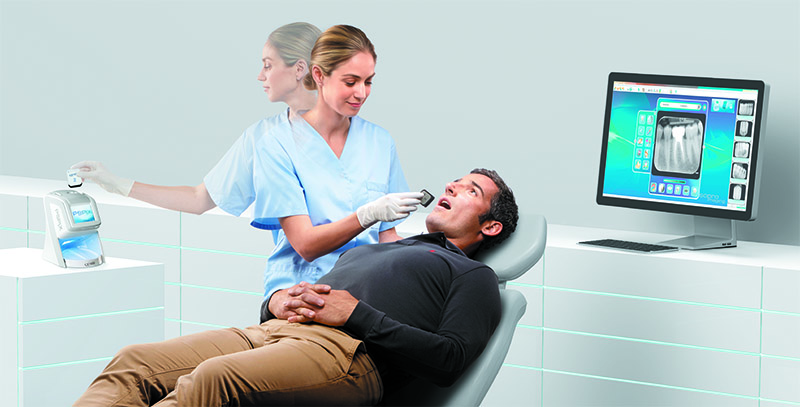 I WANT A SCANNER FOR MYSELF
Acteon created the first personal phosphor plate scanner.
With the new PSPIX near to unit, you save a lot of time:
you don't need to walk to another room to scan an X-ray image
you get a photo in a few seconds
You are more efficient and you can give more attention to your patient.
The new PSPIX is:
AFFORDABLE that you can now equip every operatory chair side
INTUITIVE that learning to use it is instantaneous
SMALL that it takes up a minimal amount of space
ELEGANT that it will enhance your dental practice
Compatible with all X-ray equipment in the market!
FULLY AUTOMATED PROCESS AUTO-ACCESS: The door only opens when the imaging plate is inserted.
AUTO-DETECT: PSPIX automatically detects the size of the inserted imaging plate.
AUTO-SCAN: PSPIX scans and optimizes the image before displaying it into the right workstation.
AUTO-EJECT: The imaging plate is automatically erased and ejected for an immediate reuse.
ECO-MODE: PSPIX automatically switches to economic mode when not in use for an extended period of time.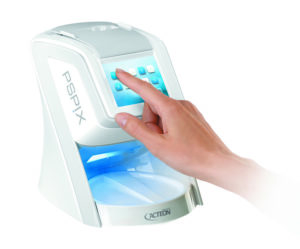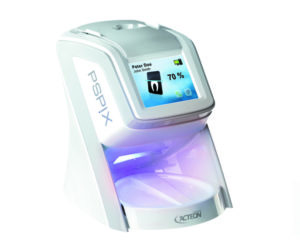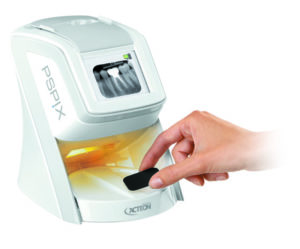 PSPIX – Ref. number: S7020001
Set includes:
PSPIX scanner, set of 4 plates in 2 sizes (2x size 1, 2x size 2), 2x 100 foil casings with small cardboard boxes, image plate storage box, touch screen pen, 10 SoproWipes, network cables, Sopro Imaging software.