Sutures
Nici chirurgiczne przeznaczone dla chirurgii stomatologicznej, implantologii i periodontologii.
Oferta obejmuje szeroki zakres materiałów szewnych łącznie z PTFE oraz szeroki zakres rozmiarów i rodzajów igieł.
Najlepsza jakość materiałów gwarantowana jest przez producentów Hu-Friedy oraz Medipac.
Medipac Nici PTFE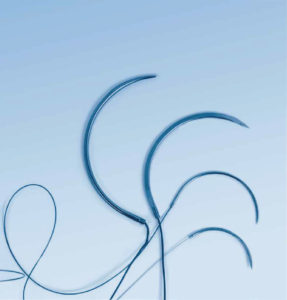 Charakterystyka
Całkowity brak absorpcji płynów, 100% czysty PTFE.
Monofilament zapobiega osadzaniu płytki bakteryjnej.
Obojętne biologicznie i chemicznie.
Wysoka wytrzymałość na rozciąganie, także gdy są zwilżone.
Zmniejszenie stanu zapalnego i szybsze gojenie się rany.
Miękkie i wygodne dla pacjentów.
Łatwe w stosowaniu i zapewniające dobre trzymanie węzłów.
Główne zastosowania
Zabiegi regeneracji kości.
Przeszczepy tkanek miękkich.
Zabiegi implantologiczne.
Chirurgia przyzębia.
Sterowana regeneracja tkanek (GTR).
Nici Hu-Friedy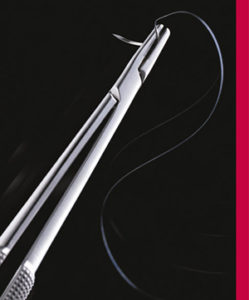 Hu-Friedy Perma Sharp Sutures are the only suture specifically designed for dentists ensuring efficient and reliable soft tissue closure.
300 Series Stainless Steel, the ideal alloy for dental suture needles, ensures a strong sharp needle pass after pass
Manufactured from a stronger alloy composition, increasing ductile strength – if the needle does bend, it is less likely to break when reshaping.*
Finer point geometry for smooth tissue penetration, requiring up to 20% less force than other suture needles**
Laser-drilled needles for reduced tissue disruption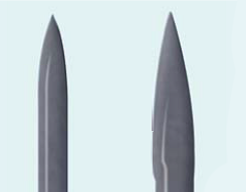 Perma sharp suture needle / Competitor's Suture Needle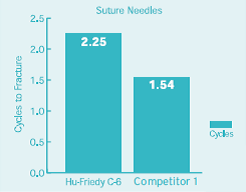 Cycles to fracture – Suture Needles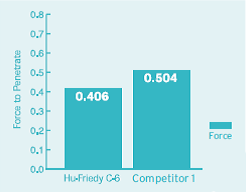 Force to penetrate – Suture Needles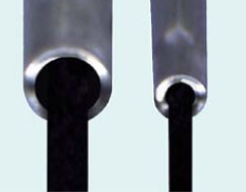 Two Perma Sharp needles. Notice how the needle diameter is adjusted acording to the size of suture material. (Magnified 20x)
Golnit PTFE Sutures: Periodontal, Bone Graft and Implant Surgery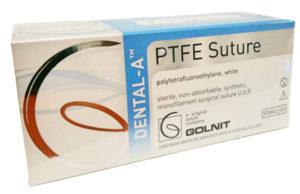 Golnit PTFE sutures are an excellent choice for any periodontal, bone graft or implant surgery.
Thanks to being completely non-absorbable and biologically inert, these sutures cause minimal inflammatory response in the moist environment of the oral cavity.
Golnit PTFE sutures are supplied sterile in various lengths and diameters and attached to a needle.
Applications
Dental bone grafting
Soft tissue grafting
Implant surgery
Periodontal surgery
Ridge augmentation
Guided tissue regeneration (GTR)