Sutures
Surgical sutures designed for oral surgery, implantology and periodontology.
The offer includes a wide range of suture materials including PTFE and a wide range of sizes and types of needles.
The best quality of materials is guaranteed by the manufacturers Hu-Friedy and Medipac.
Medipac Nici PTFE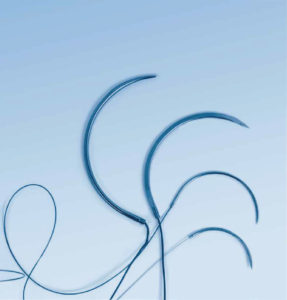 Characteristics:
Absolutely no liquid absorption, 100% pure PTFE.
Monofilament prevents the deposition of bacterial plaque.
Biologically and chemically neutral.
High tensile strength, also when wet.
Reduction of inflammation and faster wound healing.
Soft and comfortable for patients.
Easy to apply and with good knot hold.
Main Applications:
Bone regeneration treatments.
Soft tissue transplants.
Implantological treatments.
Periodontal surgery.
Controlled tissue regeneration (GTR).
Nici Hu-Friedy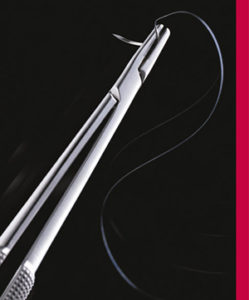 Hu-Friedy Perma Sharp Sutures are the only suture specifically designed for dentists ensuring efficient and reliable soft tissue closure.
300 Series Stainless Steel, the ideal alloy for dental suture needles, ensures a strong sharp needle pass after pass
Manufactured from a stronger alloy composition, increasing ductile strength – if the needle does bend, it is less likely to break when reshaping.*
Finer point geometry for smooth tissue penetration, requiring up to 20% less force than other suture needles**
Laser-drilled needles for reduced tissue disruption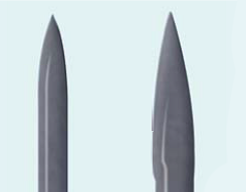 Perma sharp suture needle / Competitor's Suture Needle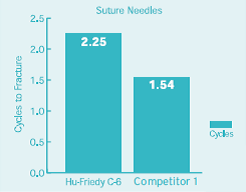 Cycles to fracture – Suture Needles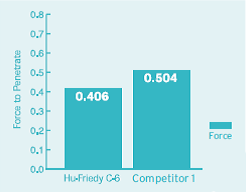 Force to penetrate – Suture Needles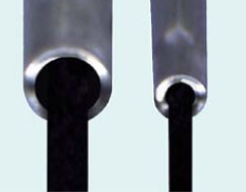 Two Perma Sharp needles. Notice how the needle diameter is adjusted acording to the size of suture material. (Magnified 20x)
Golnit PTFE Sutures: Periodontal, Bone Graft and Implant Surgery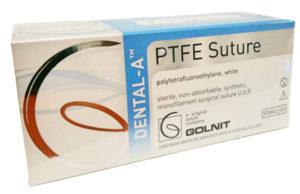 Golnit PTFE sutures are an excellent choice for any periodontal, bone graft or implant surgery.
Thanks to being completely non-absorbable and biologically inert, these sutures cause minimal inflammatory response in the moist environment of the oral cavity.
Golnit PTFE sutures are supplied sterile in various lengths and diameters and attached to a needle.
Applications
Dental bone grafting
Soft tissue grafting
Implant surgery
Periodontal surgery
Ridge augmentation
Guided tissue regeneration (GTR)